ricardo-vargas.com
Uncertainty Cycle®
Uncertainty Cycle® is Ricardo Vargas' workshop on uncertainty management. As a team, the participants will learn an innovative process of managing the unknown through an iterative and agile model.
The workshop is based on concepts of PESTLE, scenario thinking, DevOps, business agility, and SAFe® (ScaleAgile Framework).
Target Audience
The Uncertainty Cycle® workshop audience comprises executives, strategic planning teams, investment planners, risk managers, digital transformation leaders, and project managers. All who are involved in activities needing quick assessment and decision-making to respond efficiently to conditions imposed by the market and external factors.
Structure
Over a seminar day, participants are divided into teams to support Tiger Screws, a fictional screws and connectors factory with global operations. Each team must analyze and map external scenarios based on the company's strategic direction based on variables, and uncertainties.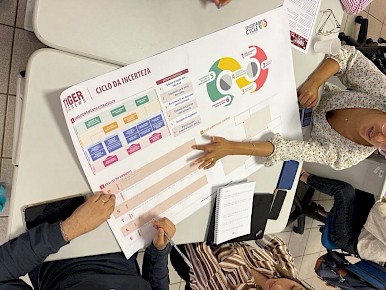 Upon receiving the strategic direction for the next cycle of work, the participants will choose the analysis scenario to determine uncertainty variables that will be monitored using PESTLE.
Then, using Scenario Planning, 2x2 modeling, and Structured What-If Technique (SWIFT), they will develop actions that seek to respond and adapt the business to a volatile, uncertain, complex, and ambiguous (VUCA) environment.
---
Scope of the workshop
Supported standards and methodologies