Why should your organization choose us?
RESULT. What really matters.
Twelve reasons why your company should choose our consulting services.
Clients and Projects History
Market leader with over 80 customers in industries such as oil and energy, finance, technology and telecommunications, mining and steel production and manufacturing, Macrosolutions has already structured many project offices, tools for risk management and portfolio management processes that now support more than US$18 billion in investments worldwide.
Only those who have a successful experience of this magnitude can guarantee success. See our clients.
Return on investment calculated mathematically
We developed a mathematical model based on statistical processes and simulators which allow the determination of return on investment of our consultancy work.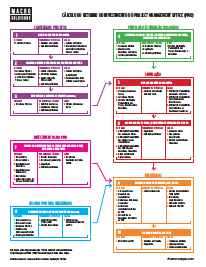 This approach allows the client to correlate the investments associated with our services and the calculated payback of investment in the real improvement of future work.
This mathematical model was developed by Ricardo Vargas and is based on Baysean estimate, Analytic Hierarchy Process, and Monte Carlo simulation. It has been presented in several conferences and journals worldwide.
Assessment of future results
Macrosolutions performs an evaluation of the results of the work after about six months of the completion of assignments. The objective of evaluation is to ensure the effectiveness of the work and the application by the customer's process and structure developed.
The evaluation is done through a structured process of interviews and then a detailed report on the status and results of a set of proposed corrective and preventive actions are developed to ensure that the return on investment is achieved.
Methodology and Work Plan
Macrosolutions widely uses the concepts of project management in their own work. A detailed work plan is designed from the proposal stage for all of our clients.
All projects have detailed timelines, clearly defined scope, project risk management mechanisms and other best practices.
All projects previously conducted by Macrosolutions were completed accurately and within the scope of contract, which may be evidenced by the large amount of repeat customers and the results of customers.
Knowledge Transfer and Documentation
Macrosolutions is essentially a consulting company, and a major goal of all consulting work is to ensure that the customer has the structure and knowledge needed to make the rollout of the work. Thus all work carried out is documented and subsequently delivered to the customer.
From flowcharts to complete decision making structures, each piece of information produced is cataloged and structured to be physically and digitally delivered to the customer at the end of the project phases.
Simulations and Mathematical Models
One of the most important services that Macrosolutions provides is the use of mathematical models and simulations, which are developed and customized for our clients.
Using the most modern software available in the market, Macrosolutions can develop mathematical models for project schedules and financial forecasts, as well as structure a capacity analysis of existing human resources, as well as determine the probability of success in attaining goals, strategic objectives, and deadlines (in the case of portfolio management).
Excellent Team of Consultants
Macrosolutions's team of consultants comprises a select group of professionals with exceptional skills. All consultants are certified by PMI as PMP and PRINCE2 Practitioner by the APM Group, and are also fluent in several languages, besides having proven international experience.
The average team experience is 17 years, and, on average, nine of those years were working in partnership and under the guidance of Ricardo Vargas.
Internationally Recognized Experience
Macrosolutions was the first Brazilian organization to be accredited by the Project Management Institute in its Registered Consultant Program, one of the most comprehensive and rigorous accreditation programs for project and portfolio consulting.
In addition, Macrosolutions is affiliated with various organizations with respect to project and portfolio consulting services.
Worldwide Operations
Macrosolutions has already provided services in 29 countries from all continents, and in all possible economic development situations.
This outreach allows for a more adaptable service with regards to different cultural, social and technological issues, thus making sure that the work performed complies with the needs of each client.
Critical mission
The experience of its team enables Macrosolutions to execute projects considered to be mission critical within the organizational context.
Only a few companies in the world have a mature and experienced staff capable of dealing with critical jobs, successfully complete projects and manage risks and crisis.
Ethics, Confidentiality and Professionalism
Everything that we do for our clients is considered to be confidential and is thus treated with the highest level of professional rigor and security. All information, communication, processes and documentation templates is digitally encrypted.
Availability
All clients have 24×7 access to the team of consultants via phone, email, and video conferencing mechanisms. This ensures immediate response to requests and improves the chances of project success.