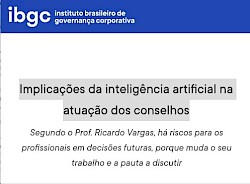 Read
Article published on the IBGC Blog "Implications of Artificial Intelligence in the Performance of Boards" addresses the growing impact of artificial intelligence (AI) on boards and governance bodies.
In it Ricardo discusses the opportunities and challenges brought by AI, including its ability to provide valuable insights and assist in the analysis of complex data.
Issues related to governance, trust, transparency and equity in AI implementation are also addressed. The article promotes a critical reflection on the future of governance in this constantly evolving technological context.