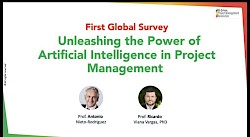 Read
LONDON, Aug. 15, 2023 /PRNewswire/ -- Antonio Nieto-Rodriguez and Ricardo Viana Vargas, prominent project management experts, present groundbreaking insights into AI's impact on global projects. Surveying 772 professionals across 93 nations, their study unveils AI's potential to transform project outcomes.
Antonio Nieto-Rodriguez stated, "Our survey underscores AI's role in shaping effective project execution." Ricardo Viana Vargas added, "AI isn't just a trend; it's project management's future."
Nieto-Rodriguez and Vargas's insights offer an AI roadmap for innovative project execution. Their collaboration extends to PMOtto, an AI startup redefining project management.