Accelerated Planning Using Quick Wins®
During his career, Ricardo developed a method aiming to recover initiatives and projects that seems to be out of control quickly. The Quick Wins® allows you to mobilize a strong task force to put your project back on track in a record time.
One of the biggest challenges faced today is to regain control of projects and initiatives that, for external or internal factors, seem to be running into a chaotic pattern.
Using his experience with hundreds of projects globally, Ricardo developed a technique based on three pillars: urgency, accountability, and planning to help organizations develop mission-critical projects to regain control. Mixing agile with early warning signals and forecasting models, the Quick Wins® method can bring life the needed control without losing the flexibility and the adaptability to cope with change.
Delivery Methods
Corporate Onsite

Live Classes
What You Will Learn
Fact sheet
Estimated duration
16 hours
Target audience
Crisis Managers, Project managers, team leaders, scrum masters, product owners, team members, agile coaches, sponsors and other stakeholders related to project and product developments.
Requirements
Participant should be leading or participating in projects
Languages
Portuguese and English
Certificate and Badge
Upon completing the course, you will receive a credential issued using the Accredible platform that can be downloaded as a PDF file and also shared on your Linkedin or other social network profiles.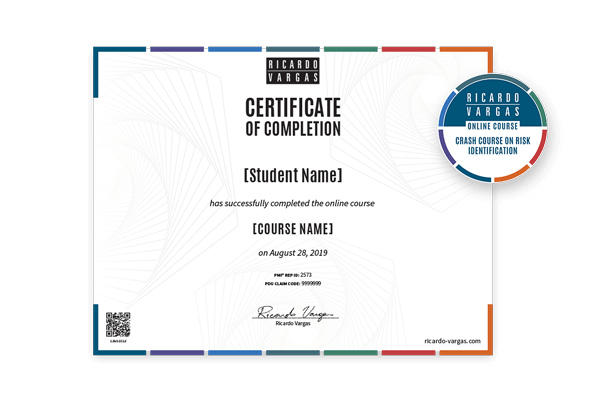 Subscribe to our newsletter
To receive updates about our courses, events, books, videos, downloads, and more.