Issue #5 - Why Does All the Hype Around Apple Matter for the Project Management World?
Apple's recent $3 trillion market capitalization milestone has profound implications for the world of project management. This assessment reflects the exceptional value of the Apple brand, marked by a strong focus on innovation and disruptive design. Launching products like the Apple Vision Pro headset shows its commitment to pushing boundaries.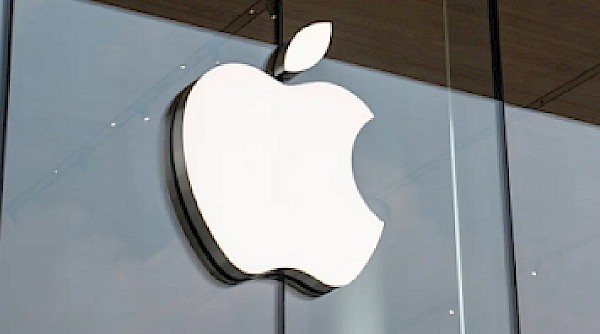 Apple's recent $3 trillion market capitalization milestone has profound implications for the world of project management. This assessment reflects the exceptional value of the Apple brand, marked by a strong focus on innovation and disruptive design. Launching products like the Apple Vision Pro headset shows its commitment to pushing boundaries. Apple's excellence in project and product management is characterized by obsessive confidentiality, meticulous design, and strict adherence to deadlines, resulting in long-lasting, high-quality products.
In This Issue
The hype around Apple and why it matters to project management
Results of our first masterclass on AI in project management
PMOtto.ai joins the Microsoft Startup Program
Will PMOs survive the era of AI?
A new video on YouTube about the Design Structured Matrix
3 Trillion-Dollar Market Cap
Apple recently crossed the 3 trillion-dollar mark to become the world's most-valued company. This mark has never been reached before.
To put it into perspective, this is more than 10% of the USA's GDP, two times the GDP of Brazil (the country where I was born), and almost 12 times Portugal's GDP (my home country).
Imagine one thing, every single product or service sold in Brazil, every car, every house, every single barrel of oil, every salary, everything produced in one year by 250 million people is not enough to buy 50% of Apple's shares.
It is wild.
Recently, Apple stock closed at a high of $193.97 per share, putting it at a market capitalization of $3.05 trillion. This valuation reflects the excitement of recent iPhone sales and the introduction of Apple's Vision Pro mixed-reality headset, which will be released early next year.
But what does Apple's valuation have to do with this newsletter, project management, and initiatives?
Everything! Let's see why.
What is Behind This Incredible Valuation?
According to Reuters, the stock gained 2.3% and added more than $983 billion to its size this year. And Apple is way ahead of its competition: roughly half a trillion dollars above the next-largest company.
It is way ahead of Google, Microsoft, and Amazon.
But Apple is more than a stock.
Let's try to understand what we can learn from Apple in five overarching points.
1. Apple's Strong Brand
Apple is not only the most valuable company in the world. It is the most valuable brand too. The 2023 Kantar Brandz Most Valuable Brands puts the Apple brand at a whopping 880 billion dollars. Next up is Google, which is valued at more than 300 billion less.
And the brand is directly related to the loyalty and the respect that users and clients have for it. These products have captured consumers' imagination, from the iPod to the iPhone to the iPad and the Apple Watch.
Why do people respect and admire Apple's brand?
It is all related to their competence in envisioning the future, executing their projects, and developing their products.
2. Disruptive Innovation
From the company's first product called Apple 1, a motherboard with a processor and memory invented and built by Steve Wozniak, one of the founders of Apple, to the Apple Vision, Apple's most recent release, they demonstrate an incredible focus on building something that people do not expect.
Something that completely breaks expectations.
As a symbolic example, I always remember buying computers in the past. They always came in a cheap brown box with no charm, sophistication, or surprise. Opening the box was more of a "get rid of the stuff" process than an experience.
Now, when you open the box of an iPhone or an AirPod, you get stunned by the design of the box, the way the product is neatly presented, and even the texture of the box itself.
It aims to mirror the sophistication of the product that is inside it.
They changed the market of packaging. They transform a product like a phone into luxury, a symbol of status, quality, and sophistication.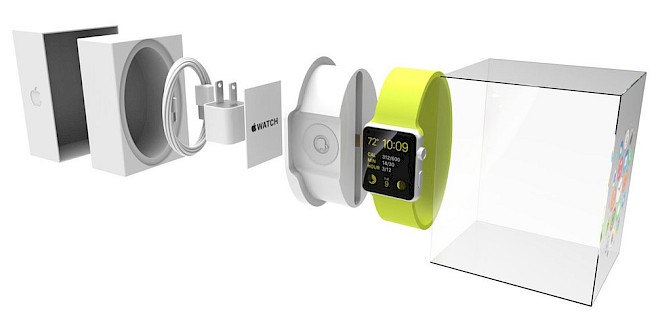 Apple Watch packaging design.
Today almost every product you buy comes in nice packaging. It is largely due to Apple's influence.
I am not writing this to promote Apple. I am just mentioning facts. You may like or dislike Apple. What you can't do is disregard what they have done because the results so far are unquestionable in terms of corporate success.
Another point about innovation is the Apple Vision, released last month.
Honestly, I was unsure if I was watching a product release or a new sci-fi movie. It was great from a tech perspective and scary, deeply scary, from a human perspective.
If Apple Vision becomes mainstream, like several other products, it can completely change how we interact at work and in our private lives.
And I am not sure if it will be for the better.
It has the power to mix the physical world with the digital one in such a seamless way that there is a risk of people losing the notion of what is real and what is generated by a computer.
Anyway, with a starting price of $3,499, it is more than three times the cost of the most expensive headset in Meta's line of mixed and virtual reality devices. Will consumers buy it?
I don't know.
And to give all of us a taste of how unpredictable things are, Apple has recently sharply reduced the estimates of how many headsets they can produce in 2024.
In my opinion, and coming from Apple, I cannot even imagine how luxurious its box will be!
All this led us to look for insights into how Apple manages its projects and product development.
3. Excellence in Project and Product Management
Another aspect is related to how they develop their projects. From an almost paranoid concept of confidentiality to the meticulous design of internal parts of the devices that no one will see (except technicians, if it needs to be fixed one day), everything at Apple is taken to the extreme.
Technical teams are free to intervene and replan if they see something is not working. Projects are run in small integrated teams, and managers combine technical knowledge with a permanent challenging mindset, assigning tasks always above the team member's recognized expertise.
Another critical aspect is related to deadlines. Apple requires absolute deadlines, and they never miss them. Period.
This search for perfection in how projects are managed, combined with a tireless search for supreme quality, makes their products what they are.
Let me give you a personal example.
My wife Zelia still uses the MacBook Pro we bought while living in Copenhagen. This was eleven years ago. It has been eleven years of using the same computer daily without significant issues except for replacing the batteries a few years ago.
I've never seen anything like that.
And probably, when she decides to change it, she may even sell it in marketplaces like eBay for a decent amount of money for something that, in normal expectations, would last maybe three or four years.
But it was not always this way.
4. Learning from Failures and Crisis
It is easy to analyze Apple now, but in 1980, Apple released the Apple III, a business-focused computer that was supposed to compete with the growing threat of IBM and Microsoft. This was a new concept for users at that time. It sold only 100,000 units of the Apple Lisa, a personal computer built for business users in the early 1980s.
Apple also launched the Newton MessagePad in 1993. The product was $700 and did little more than take notes and keep track of your contacts.
But Apple has come a long way in building its products since then.
If we look back, the history of Apple is full of ups and downs. Probably no other large tech organization faced as many challenges, crises, and turnarounds as Apple.
Let's not forget that Apple is not a startup. It has been at it for 47 years. It has seen ups and downs. Steve Jobs and Steve Wozniak founded Apple on April 1st, 1976.
In 1983 Jobs released the Apple Macintosh, considered by many the world's most popular user-friendly computer. However, it was a time of internal political conflict for Apple. At this time, Apple got a new CEO: John Sculley.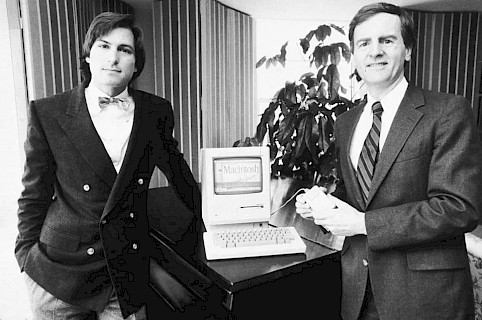 Steve Jobs (L) and John Sculley with the Macintosh. Getty Images
Eventually, Apple's board of directors supported Sculley and removed Jobs from his leadership duties. A furious Jobs quit and went on to found NeXT, a computer company making advanced workstations where he had total control. He also bought Pixar from Lucas Films.
Jobs came back more than a decade later when Apple acquired NeXT. Apple was in dire straits. He staged a boardroom coup and became CEO once again.
It was a very bumpy road. But every failure just triggered the desire to do better next time. The failure did not make them stop. It just motivated Steve Jobs and others to go deeper into what they would do next.
Let's not be naive. Jobs did not do this alone. Not at all.
5. Dream Team
As CEO, Jobs led the development of the iPhone, iMac, iPad, and several other products we all know well.
And to do that, he built a "dream team" of senior executives and managers. Tim Cook, Job's right-hand man that became CEO in 2011; Jonathan Ive, the designer of most of the Apple products we know today; Scott Forstal, the mind behind the iPhone; Tony Fadel, the creator of the iPod; Phill Schiller, responsible for worldwide marketing and Eddy Cue, leader of all ecosystems of Apple applications.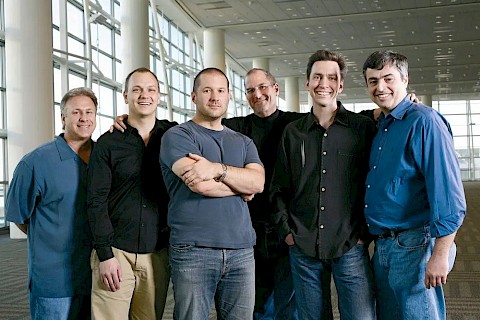 Apple's leadership team in 2007, from left to right: Phil Schiller, Tony Fadell, Jony Ive, Steve Jobs, Scott Forstall, and Eddy Cue. J. Sprague/Redux
With a brilliant team leading the development of every product, Apple turned into a machine of releasing successful products and services, leading basically any segment it operates in.
How Does the Future Look Like?
For now, Apple's innovative design, simplicity of use, and ability to capture the market is phenomenal.
Besides its stock market valuation, it has successfully overcome failures and is well poised for the future of how consumers communicate with each other.
We all know that the future is not as predictable as we think. With AI in our lives, new social habits, and geopolitical challenges, no success is set in stone.
Compare yourself to your children or younger generations, and you will see that things are already different.
But Apple is in good shape for the challenge.
What do you think?
What Has Been on My Radar Recently?
Numerous.ai
Every day the AI world brings a surprise. Recently I learned about a tool that blew my mind. It is called Numerous, and it brings the power of natural language to Microsoft Excel and Google Sheets. I cannot even explain it. Look and see how it performs sentiment analysis using GPT. I am speechless. (This is not a sponsored post).
AI in the Workplace
Look at this very insightful infographic from Visual Capitalist. It shows that leaders are more optimistic than their workforce about the future of AI in the workspace. It is something to think about.
Will PMOs Survive in the Age of AI?
One of my recent podcast episodes raised the question, "Will Project Management Offices (PMO) Survive in the Age of AI?" It received tens of thousands of views and several comments. If you have not done so, listen to it and share your opinion. It may impact many of us.
First AI-Driven Project Management Revolution Masterclass
Antonio Nieto-Rodriguez and I just finished the first edition of our AI-Driven Project Management Revolution Masterclass. We had 65 participants from 24 countries!!! From China and Japan to Argentina, from Poland to Uganda. It was a fantastic discussion that will now continue in our Alumni LinkedIn group.
For those interested in our next masterclass, take note of the date: September 15th and 22nd from 9:00 AM to 1:00 PM ET. Registrations will open soon here.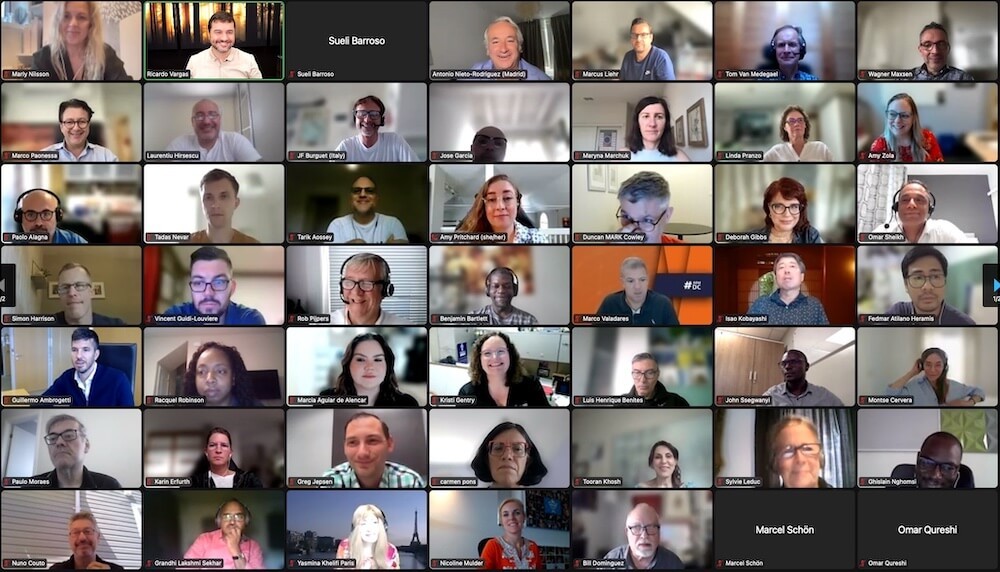 New YouTube Video on Design Structured Matrix (DSM)
I love sharing some tools I use in my work. Recently I released a new YouTube video on my channel called "Basics of Design Structure Matrix or DSM." If you have complex networks with many coupled links or loops, DSM will be an extremely powerful tool to manage that. Watch the video and download the example I used here.
PMOtto.ai Joins Microsoft Startup Program
PMOtto.ai is starting to roll out to those on the waiting list. Stay tuned. We are fine-tuning some aspects of the engine to release it for tests. You can put your name on the waiting list here. Everything in the AI world changes so fast that it is like building a home while the land is being landscaped.
Every morning is a new surprise.
By the way, speaking of surprises, yesterday, PMOtto.ai was accepted to the Microsoft Startup Program! The official support of Microsoft is exceptionally relevant to our work and dramatically increases our responsibility to deliver the best virtual assistant for all project managers worldwide.

Your Voice Matters!
Access the previous issue here.
If you have any suggestions, comments, or anything that will help me make the newsletter better, please send a note to [email protected] with your suggestions. I would love to hear from you.
Please share this newsletter with your friends, colleagues, and others who may benefit from it. They can also subscribe to receive it here.
Thanks for your support, and I hope it was helpful to you.
Cheers,
Ricardo