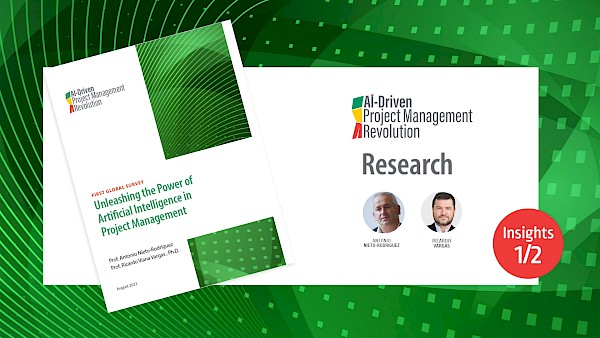 My Insights About Our First Research of Artificial Intelligence in Project Management - Part 1/2
In the "5 Minutes" podcast, Ricardo discusses the AI-driven Project Management Revolution Research he did with Antonio Nieto Rodriguez, covering critical aspects of AI's role in project management. The survey involved nearly 800 experts from 95 countries. The first insight highlights that 75% recognize AI's potential in project management, though Ricardo expected more enthusiasm.
The fear of AI job takeover is addressed, with 29% expressing minimal concern. This elicits positive and negative interpretations—confidence in adaptability or unawareness. Further, 41% believe AI tools significantly enhance project delivery, with Ricardo sharing examples of tools and their impact.
The urgency of adapting skills in the AI era resonates with 62%, emphasizing data analysis and AI implementation skills. Sustainability's importance emerges, with 82% stressing its relevance. Ricardo delves into the interplay between sustainability, ESG, and AI, asserting that AI can reshape ESG applications.
Ricardo's passion for learning and skill development to navigate the changing landscape is emphasized, urging listeners to do the same. Ricardo concludes by promoting the freely accessible report at pmairevolution.com. In the next episode, he will continue analyzing survey topics 6-10.
Listen to the podcast to learn more.